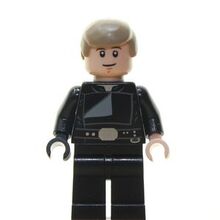 Luke Skywalker is from the series Star Wars.
MarioVsSonicFan
Background
Luke Skywalker is the son of Anakin Skywalker also known as Darth Vader. Luke Skywalker is a Jedi just like his father and and holds a green lightsaber. Luke Skywalker lost his hand to his father but has a robotic one now.
Abilities
Magic
Mind Control
Illumination
Laser Deflection
Vine Cut
Diffindo
Parseltounge translation
Target (pistol)
Quotes
"Lets do this!" (Luke while entering the game.)
"Looks like my time is up" (Luke leaving the game.)
"Thanks?" (Luke responding to Earl Sinclair's reaction to him)
"Yeah, I know." (Luke responding to Roy Hess)
"I have a bad feeling about this." (Luke when seeing a big-fig or using a mech)
"I guess you can look as good when turn 900, you do. I've got to tell Yoda." (Luke to The Doctor)
"There's something familiar about you." (Luke talking to the Joker.)
Trivia
He is voiced by Mark Hamill, his Movie Actor.
This is the first quote in LEGO Dimensions to mention another quote said by another character.
It also references the line Has Solo and Leia say about their relationship. With one saying "I Love you" the other saying "I know"
His quote towards The Doctor is a reference to Yoda's iconic line, "When turn 900, look as good you will not."
His quote towards the Joker is a reference to Mark Hamill voicing the Joker.
Community content is available under
CC-BY-SA
unless otherwise noted.