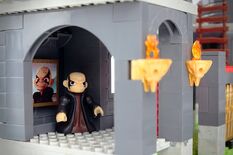 Kaos is the main villain of the Skylanders games and a playable character in Lego Dimensions. He comes in the Kaos Fun Pack, and his vehicle is the Doom Jet, which can be rebuilt into TBA and Robo-Kaos. He is voiced by Richard Steven Horvitz.
Abilities
Magic
Mini Access
Lego Constructs (Mind Magic)
Mind Control (Mind Magic)
Sword Switches (Mind Magic Sword)
Vine Cut (Mind Magic Sword)
Targeting (Mind Magic Ninja Star)
Silver Lego Blowup (Mind Magic Bazooka)
Magic Portals
Portal Gun
Tardis Travel
Cursed Red Lego Objects
Element Change
Laser (Fire)
Melt Ice (Fire)
Plant Growth (Water)
Water Spray (Water)
Hazard Cleaner (Water)
Atlantis Elemental (Water)
Freeze (Water)
Dive (Water)
Heart Regen (Life)
Illumination (Light)
Ghost Suspend (Undead)
Ghost Trap (Undead)
Tracking (Tech)
Relic Detection (Tech)
Technology (Tech)
Hacking (Tech)
Fix-It (Tech)
Dig (Earth)
Big Transform (Turns into Super Kaos)
Super Strength (Super Kaos)
Super Strength Handles (Super Kaos)
Community content is available under
CC-BY-SA
unless otherwise noted.